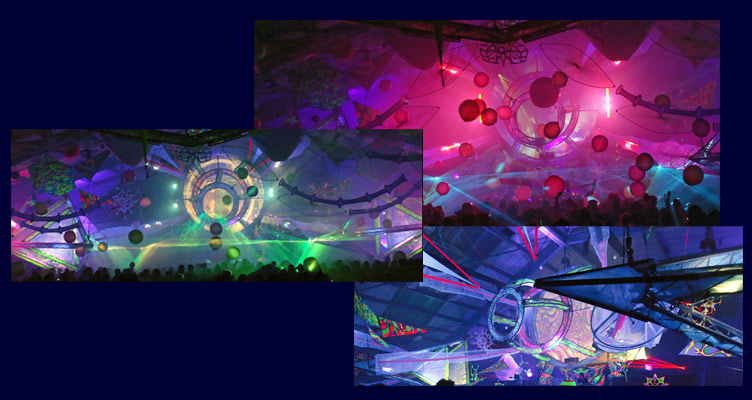 Biolive is proud to present the 7 th edition of TimeGate.
An evening in a fantastic world, organic, futuristic, creative that call your 5 senses and
pushes the limits even further.
Light show, lasers, LEDs, great performances !, great projections, great sound system,
major visual artists and DJ's live reputation, a combination for
TimeGate to what it is.
Discover :
Special performances with Audiometrage, an reactable modified project !
Fabrik performances, light mapping, live painting, projections, jugglers, and more..
With a new transformed location !

Ajja & Tanina (Peak), Armonix (Solar Tech)Mercury fall, Animal, Mizoo, Outland, Almacalma, Kliqo & Nancy Babich, Mystical Impact & more chill out dj's ...



- BIG LASER SHOW (Laser-graphics and Impact-Vision)

- STAGE and LIGHT by Impact-Vision

- AUDIOMETRAGE ( Show Audiovisual Reactable!) www.audiometrage.com

- AEROSOL LIGHT TEXTURES ( www.aerosol-light.net )
- JUSSI LOF LIVE PAINTING
- LES LUCIOLES JUGGLER PROJECT
- JONGLARIS JUGGLER PROJECT (www.jonglaris.de)
- FABRIK PERFORMANCES
- SPECIAL PERFORMANCES...

- and more...

2 Nights ! 2 floors the 30th and 3 floors the 31th !
Start 30th : 20h - End 1st : Open End (NON-STOP)
31th the cash desk open at 18h.

Discover the tranformed location !

Different Food inside and outside
No glass bottles
No Dogs Please
Smoking area inside and outside / Non smoking area inside

Special animations during the night...
Remember !! Come Before midnight (0h00) Because,
if not, you will lose some great animations !!! :)
And to be sure to be inside in time !
The best is to come at 18h to avoid the queues.

Stands are welcome, send a e-mail to : info@biolive.ch
For bed and breakfast or other informations, Check on the location /Hostel section

50'000W Bright Sound System !!!

CONTACT :
Info line : 0041(0)78/622'60'84 (only from middle of december)
Informations : info@biolive.ch