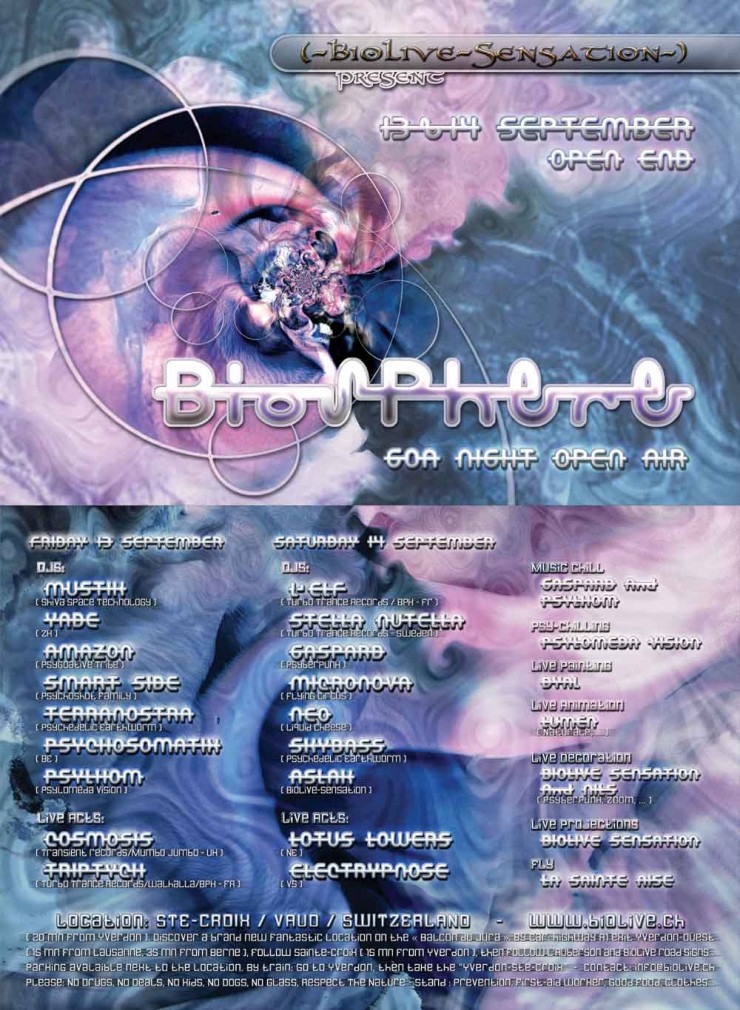 - BIOSPHERE (: 13 AnD 14 September BIOSPHERE -
Friday 13 September
LIVE
COSMOSIS (Transient records/Mumbo Jumbo/UK)
TRIPTYCH (Turbo Trance records/Walhalla/BPK/France)
DJs
MUSTIK (Shiva Space Technology)
YADE (ZH)
AMAZON (Psygoactive Family)
SMART SIDE (Psychoshot)
TERRANOSTRA (Psychedelic Earthworm)
PSYCHOSOMATIX (BE)
PSYLHOM (Psylomèda Vision)
Saturday 14 September
LIVE
LOTUS FLOWER (NE)
ELECTRYPNOSE (VS)
DJs
L'ELF (Turbo Trance records/BPK/France)
STELLA NUTELLA (Turbo Trance records/Suede)
GASPARD (Psyberpunk)
MICRONOVA (Flying Circus)
NEO (Liquidcheese)
ASLAK (BioLive-Sensation)
TimeTable and Price
Price for 1 Day : 33.-
Price for 2Days : 55.-
Cheap drink : Beer 4.-, etc..
Breakfast : Free price
Non-Stop Music from Friday 21h to Sunday 6h.
note : Thanx to Ste-Croix administration for the rare autorization.
Other
DECORATION : (-BioLive-Sensation-) And Nils (Psyberpunk, Zoom, …)
PROJECTION : (-BioLive-Sensation-)
MUSIC CHILLl : GASPARD And PSYLHOM And ORANGE DUB And AES-DANA (Ultimae Records)
PSY-CHILLING : Psylomèda vision
LIVE PAINTING : Dyal (Dany) 2 nights
LIVE ANIMATION : Lumen (Naturalp, …) 2 nights
STAND : Prevention, First-aid worker, Good Food, Clothes, And Others… !If you want to put you stand e-mail me!
(:Camping

(: BreakFast at morning

PLEASE : No Deals, No Drugs, No Dogs, No Kids, No Glass Bottles And RESPECT THE NATURE !!!
Location
Location : STE-CROIX (1086m)/ VAUD / SWITZERLAND (20mn from Yveron and 20mn from Pontarlier)
Discover a brand new fantastic location on the " Balcon du Jura "
How to get there:
By car:
Highway A1 exit Yverdon-Ouest (15 minutes from Lausanne, 35 minutes from Berne)
From Yverdon, follow Sainte-Croix (15 minutes from Yverdon), then follow L'Auberson and BioLive road signs…
Parking avalaible next to the location
By train:
Go to Yverdon, then take the "Yverdon-Ste-Croix" (a nice small train…)
For more info, go to www.sbb.ch